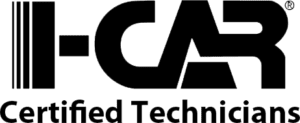 The I-CAR vision is that every person in the collision industry, current and future, has the necessary knowledge and skills relevant to their position to achieve a complete and safe repair.
Five Star Auto Body is a I-CAR Certified auto body and collision repair shop in Lancaster, CA so you can rest assured knowing that your vehicle's repairs are in the hands of the best.
Formed by the collision industry in 1979, I-CAR, the Inter-Industry Conference on Auto Collision Repair, is an international, not-for-profit training organization. All I-CAR activities and resources focus on helping the industry achieve a high level of technical training.
I-CAR develops and delivers technical training programs to professionals in all areas of the collision industry. In addition, I-CAR provides a communication forum for anyone interested in proper collision repair. I-CAR's primary funding is derived from student tuition and services. This assures that I-CAR can remain unbiased in developing programs and services on an industry-wide basis.
I-CAR's mission is that I-CAR will be the leader in research, development and delivery of quality, convenient, cost-effective educational programs for the collision industry.
We will fulfill our mission by:
Raising the level of knowledge and skills required of individuals involved in the repair process.
Preparing individuals for career opportunities and advancement.
Administering programs to recognize professional achievement.
Improving communication and promoting the value of education throughout the collision repair, insurance, and related industries.
Creating public awareness of a complete and safe repair.
Five Star Auto Body is proud to be an I-CAR Certified shop.
Ready to have one of our I-CAR Certified experts look at your vehicle? Contact us or call (661) 951-9110 today to get started!