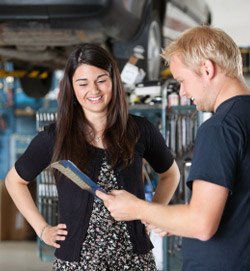 Five Star Auto Body has been serving the needs of Antelope Valley residents since 1944. Family owned and operated, we take pride in the services that we provide our customers and we value their thoughts and opinions. You can submit a review and let everyone know about your experience here.
Read what some of our customers have to say about us!
First time I've ever had to use an auto body shop. The staff was friendly, answered all my questions and kept me informed through the entire process. My vehicle was fixed in a timely manner and came back to me in excellent condition. The staff dealt directly with the insurance company and did not bother or hassle me at all. They even accommodated my work scheduled.  Very good customer service!
My car got hit and the paint scratched/ peeled off on the rear bumper, my insurance referred me to this place and my car looks good as new! I have a pearl white car and was concerned about how the end result of the paint would come out and it looks as if nothing even happened to my car. They even replaced the protective film with the cars logo on the bumper.  Job also finished within 2 days, thank you!
The Five Star Auto Body in Lancaster, California is run by very professional people, they treat you first class and their workmanship is first class also. I highly recommend them if you need body work on you car or truck. I would use their service again without hesitation!
I went in today because my car door was all jammed up (dang wind). Denise greeted me warmly and was very helpful! This awesome mechanic, Dave, looked at my door and offered to adjust it at no cost! How nice!! It was all fixed up in no time. Nobody wants to have to go to a body shop, but if I ever do, I got my place and so do you. Thanks guys!
I took my Dodge 2500 to Five Star to fix my bedside and put a Rhino lining in, the body work looked like new and the paint matched great and I couldn't be happier with my new bed liner!
I had my truck fixed here through my insurance and they did a great job!

They fixed the whole side of my truck and the paint looked great you couldn't even tell it had been painted, it matched perfectly!

They even cleaned and detailed my whole truck! I was very happy with the service they had it in and out in a week just like they promised,

I have had bad experiences in the past with another shop in town and this was a pleasant surprise everyone was so nice and helpful!

Thanks Five Star, you guys rock!