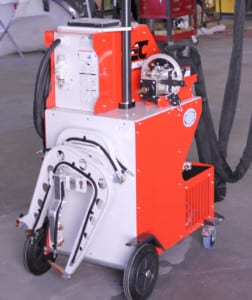 Whether you've been in a major collision or had a minor fender bender, our experts at Five Star Auto Body have the experience and the state-of-the-art tools needed to repair your vehicle's external body damage you can see and the structural damage that you can't see.
Sometimes replacing a full panel of your damaged car isn't the best option, you want to see an auto body repair expert that has the expertise and specialty tools to properly rework the existing sheet metal. One of the most important specialty tools used accomplish this is the spot welder.
At Five Star Auto Body, we count on the Chief MULTISPOT-MI200T Spot Welder to assist in the restoration of the strength and appearance of your vehicle.
Quality tested and approved by many car manufacturers, this spot welder tool allows our auto body experts to permanently join two sheet metal panels together in order to restore the appearance and strength of your vehicle's outer structure.
The MI200T is specifically designed to handle difficult-to-weld materials. These materials include aluminum, boron steels, various steel alloys, and new high-strength metals often used in today's automobile manufacturing.
The Chief MI200T spot welder allows our experienced auto body welders to deliver factory-quality welds that restore your vehicle and maximize the strength of its structure.
Ready to have one of our experts look at your vehicle? Contact us or call (661) 951-9110 to book an appointment with us today!